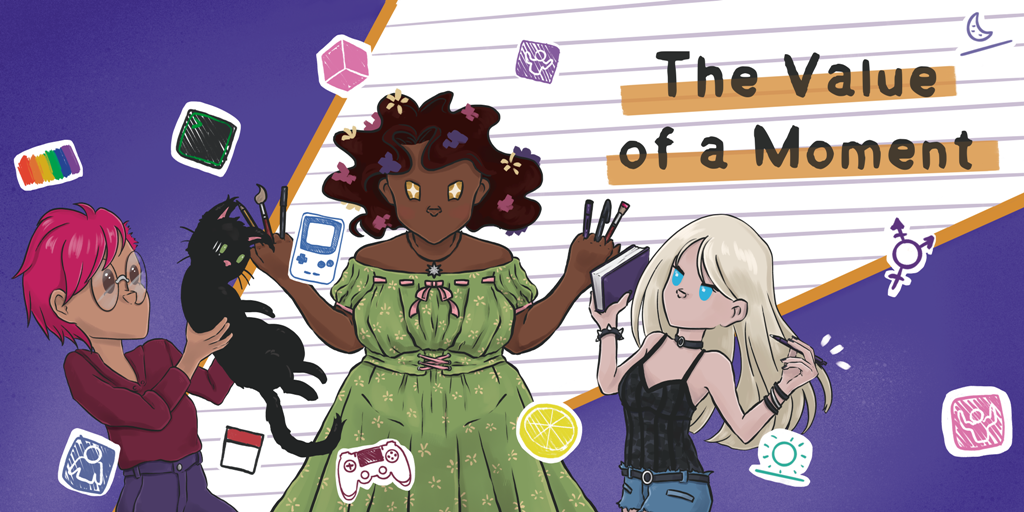 The Value of a Moment
A downloadable TVOAM for Windows
Cuando Elle, Zoë y Ari decidieron lanzarse a desarrollar su propio videojuego no pensaban que tendrían que enfrentarse a tantas dificultades. La primera, elles mismes.
Sus inseguridades, el síndrome de le impostore, los comentarios externos, la rutina, y la falta de apoyos harán mella en la autoconfianza de estes chiques.
En menos de una semana, presentarán su videojuego ante el público. ¿Conseguirán superar sus inseguridades y crecerse ante la adversidad, o fracasarán estrepitosamente?
¿Qué vas a encontrar en The Value of a Moment?
Videojuego costumbrista.

Mezcla de mecánicas experimental (point&click, puzles, minijuegos...).

Una combinación de arte 2D y 3D.

Personajes diverses con les que te podrás identificar.

Historias reales como la vida misma.

Una voz en off que te dirá lo que piensa, te guste o no.
Pero, sobretodo, un videojuego de chiques para chiques, sobre las cosas reales que nos ocurren, contadas por nosotres mismes.
GAMEPLAY
Install instructions
1. Descargar
2. Extraer .rar
3. Ejecutar The Value of a Moment.exe